Father's Day will be here before you know it! If you're still in need of a gift, browse our list of recommended reads that are perfect for the dad on your list. Aspiring pitmaster dad, got his home brew kit during the pandemic dad, "we're going on a summer road trip" dad, armchair historian, explorer and adventurer, even the prepared for everything dad—we've got you covered 📚
Northwest Know-How: Beer
by by Jacob Uitti; Illustrated by Jake Stoumbos
For dads who love a pint, Northwest Know-How: Beer is a guide to all that is malty and hoppy in the Pacific Northwest and an ode to the region's brews. From the brewing basics and local lore to resident brewers and their standout drafts, this book equips readers with interesting facts, brewery origin stories, and resources for connecting with other beer enthusiasts. Dad will love exploring the world of PNW craft beer with this engaging guide. This was recently featured as a top gift pick for dad in the Seattle Times!
Northwest Know-How: Trees
by Karen Gaudette Brewer; Illustrated by Emily Poole
A perfect gift for the tree lover in your life, Northwest Know-How: Trees is an entertaining and educational guide of the Pacific Northwest's most engaging and impressive varieties. It provides identification tips, statistics, and fun facts for each of the 54 trees featured and beautiful line-art renderings of the awe-inspiring sentinels that dot our landscape to delight the curious observer and experienced arborist alike. Bonus: Among other places, you can even grab a signed copy at your local Bartell's Drugstore!
Get Ready!
by Deb Moller
For the dad who is always prepared, Get Ready! is the definitive guide to earthquake safety in the Pacific Northwest. This handbook covers the supplies you need, lists of what to purchase and how to store it, what to do during and immediately after an earthquake, how to develop a reunification plan, how to communicate when basic infrastructure is down, and more. It presents information in clear, practical, and manageable steps, equipping the reader with the skills to care for themselves and their loved ones when a major earthquake hits.
BirdNote
by BirdNote; Edited by Ellen Blackstone; Illustrated by Emily Poole
If dad loves birding (or is a would-be birder), BirdNote is a beautiful gift book that features entertaining and informative essays from the popular public radio program, BirdNote, accompanied by gorgeous full-color illustrations throughout–an illuminating volume for bird and nature lovers across North America. 100 of the best stories about our avian friends, each brief essay illuminating the life, habits, or songs of a particular bird offer a delightful window to the winged world.
The Pacific Crest Trail
by Joshua M. Powell
A visual feast for the senses, see the beauty and the beastliness of the 2,650-mile wilderness hike from Mexico to Canada through clever infographics, modern illustration, and insightful text. The Pacific Crest Trail captures both the grandeur of the West Coast as well as the tiniest things that a thru-hiker notices and experiences during a 140-day trek—everything from trail markers to weather challenges and more. Ideal for dads who are outdoor enthusiasts or armchair explorers, it's the Pacific Crest Trail as they've never seen it before!
Unsettled Ground
by Cassandra Tate
If dad is a history buff, Unsettled Ground takes a fresh look at the personalities, dynamics, disputes, social pressures, and shifting legacy of the Whitman Massacre, including the often-missing Indian point of view. The Massacre—a pivotal event in the history of the American West—led to a war of retaliation against the Cayuse Indians, the extension of federal control over the present-day states of Washington, Oregon, Idaho, and parts of Montana and Wyoming, and martyrdom for the Whitmans.
Become America
by Eric Liu
For the dad who is an armchair politician, Become America is a collection of 19 "civic sermons" that are stirring explorations of current and timeless topics about democracy, liberty, equal justice, and powerful citizenship. This book will energize dad to get involved, in ways both large and small, to help rebuild a country that we can all be proud to call home. Become America challenges the reader to rehumanize politics and rekindle a spirit of love in civic life and provides inspiration and solace in a time of uncertainty over the state of the Union.
Chief Seattle
by David M. Buerge
The first thorough historical account of Chief Seattle and his times, Chief Seattle is the story of a half-century of tremendous flux, turmoil, and violence, during which a native American war leader became an advocate for peace and strove to create a successful hybrid racial community. It threads together disparate accounts of the time from the 1780s to the 1860s, including native oral histories, Hudson Bay Company records, pioneer diaries, French Catholic church records, and historic newspaper reporting—the perfect gift for dads who love local history!
Plank Grilling
by Dina Guillen
For dads who love to grill, Plank Grilling features 75 recipes with cedar and other flavorful wood planks that impart a wonderful smoky infusion to all kinds of dishes with crowd-pleasing results. Dad will learn how to use wood planks to make smoky homemade bacon, caramelized Butternut Squash and Apple Soup, and flavorful Rack of Lamb with Rosemary Pomegranate Sauce and more! This versatile cookbook will help dad get creative and prepare a standout Pacific Northwest summer barbeque.
The Best Coast
by Chandler O'Leary
Help dad plan an unforgettable summer road trip with this quirky, illustrated book showcasing the West Coast's historic routes. Featuring roadside attractions, beloved landmarks, hidden history, and other offbeat delights, it's the ultimate inspiration for a trip. It also includes route maps, travel tips, packing guides, and more! From San Diego, California, all the way up to the Olympic Peninsula in Washington State, find off-the-beaten-path adventures up and down the historic highways (including the PCT!) of the West Coast.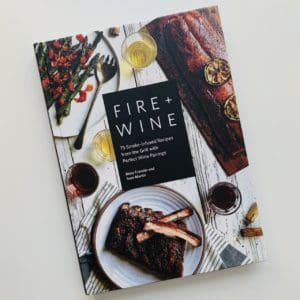 Fire + Wine
by Mary Cressler and Sean Martin
Help dad up his grill game this summer with Fire + Wine! This cookbook by a pitmaster and a sommelier will turn your backyard barbecue into the tastiest place to be–with recipes that celebrate smoked and grilled food (and the wines that pair best with them). 75 recipes bring the smoke to wild salmon, ribs and steaks, and rubs and glazes draw on Northwest flavors such as soy sauce, rosemary, and wild blackberries. No matter the equipment at home, the instructions will turn even novices into masters of the grill!